Free IELTS Academic Writing Sample for Task 1
Make sure you download the free IELTS academic writing sample for task 2 as well!
The graph below shows the regional household recycling rates in the UK, France and Germany from the years 2005-2015.
 Summarise the information by selecting and reporting the main features, making comparisons where relevant. Write at least 150 words.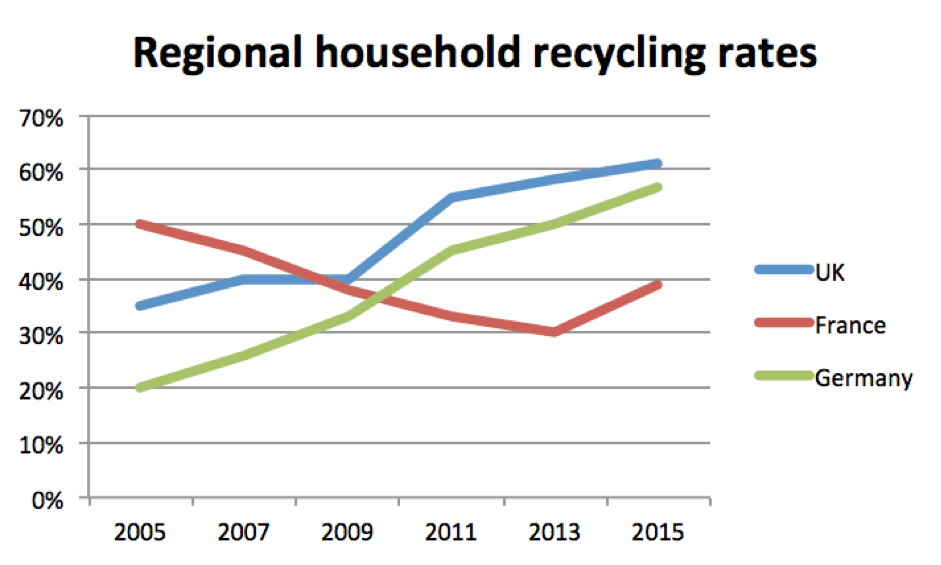 The graph illustrates the rates of recycling in the households of three different countries: The UK, France and Germany from 2005-2015.
The data shows that the UK and Germany recycle the most, France recycles the least. Generally, household recycling rates in the UK and Germany increased at similar rates, while France's rates showed a steady decrease before rising again.
In 2005, France had the highest household recycling rates, with 50% of households recycling. However, this number declined steadily until reaching a low of 30% in 2013, before rising again to 40% in 2015. The UK and France started at 35% and 20% respectively in 2005. Both rose steadily until 2007. In that year, the UK plateaued until 2009 before rising again to 50% in 2011 and climbing to just above 60% in 2015. Germany on the other hand showed a consistent increase from 20% in 2005 to just below 60% in 2015.
It can be seen that the UK has the highest rates of household recycling of the three countries, with Germany not far behind. France, although starting with the highest rates, is now the lowest of the three.
Although they are helpful, it's very rare that reading a IELTS writing sample will be enough to help you pass the IELTS writing section. E2Language online IELTS courses provide you with the best methods & strategies for mastering the PTE writing section on your first try.
On top of the valuable knowledge you'll gain from our online classes, an expert tutor will work with you to develop a method that works for you, and our writing assessments will provide you with valuable feedback about how to boost your score!
Here's one of our free writing videos from our E2 IELTS YouTube Channel:
Follow us on social media for all the latest IELTS tips, strategies and updates!