Hello from the E2 Team!
We are committed to supporting our students on their journey to pass their high stakes English tests. That's why we have a free 30-day trial available for all our test preparation courses. Whether you have a month to prepare or a year, you'll be able to achieve the highest grade possible with E2's high quality, expertly developed test preparation materials.
How to sign up
Click the 'Start free trial' button on our website, this will sign you up for a free 30-day trial, then choose which test you're preparing for. Once your email is verified, you can jump right into our English learning and test preparation platform. You don't need to provide any credit card details, so you can rest assured you won't receive any nasty surprises on your next bill. We will always tell you in advance if you need to pay for something on the platform.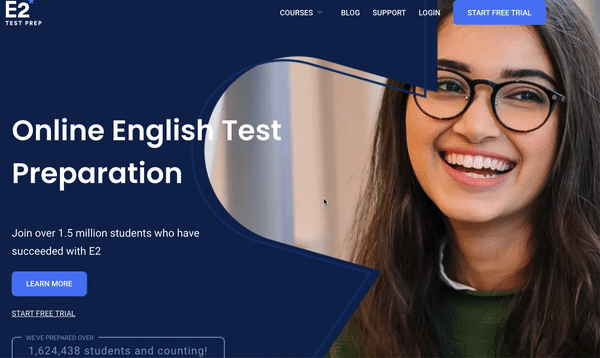 What can I access?
The free 30-day trial gives limited access to E2's all-inclusive learning platform. This way, you can explore the platform and get to know its features before you start paying, and you can be confident it's the right choice for your test preparation journey.
It's possible to change courses during the 30-day free trial period, but you should note that you won't be able to switch back to the course you originally signed up for, and your trial period will continue. So if you have 12 days left of your IELTS course and want to change to a TOEFL course, you'll be able to access the TOEFL course for the 12 days left of your original 30-day free trial.
As part of your free 30-day trial, you can do the following:
participate in four sample test preparation live classes.
complete 20 practice questions in areas like writing, speaking and reading.
Complete method lessons for your chosen test type so you can better understand how the test is put together and what is expected of you.
take a practice test.
Where do I start?
A great way to begin your journey is by building your study pathway. When you log in to your new account, you'll see a pop-up where you can input details about what band scores you need to pass your test and your test date. Don't worry too much if you don't know all this information right away; you can go back and edit it later.
The study pathway will organise the course content by priority, meaning you don't need to sift your way through the course content yourself, trying to decide what to work on now and what to save for later.
Watch this short video to understand how best to use our personalised study pathway. Or reach out to our friendly 24/7 support team if you have any questions.
How do I start studying?
Once you've completed your study pathway, it's time to dive in! On the dashboard bar along the left of your screen, you'll see a list of headings. Some areas, like the mock test, are available to purchase through the platform, but others, like skill-building, you can access for free.
You can get started with our skill-building classes! Grammar, Spelling and Pronunciation are essentials that will help you in all the sections of your test.
The free 30-day trial will not replace the paid access to the platform, but it will give you the confidence to know you're spending your money on a product that will help you achieve the highest possible band score.
How do I know what's free?
As you move through the dashboard bar on the left of your home page, you'll see that some areas have a green 'free' label next to them. These are the learning experiences you can access as part of your 30-day free trial.
Under course materials, for instance, you'll see a bar along the top of the screen listing the different exam elements – writing, listening, reading and so on. Once you click these, you'll see the green 'free' label next to those tasks that you can complete as part of your 30-day free trial. Make sure you complete them all to get as much as you can out of your free trial! Completing these free elements will help you along your English language journey.
What else is available for free from E2?
Check out our test specific YouTube channels, which offer excellent free resources for your test preparation. These test specific playlists include tips on effectively approaching each task, mistakes to avoid, the differences between different types of English language tests like IELTS and TOEFL, and more.
Like podcasts? Subscribe to The Everyday English with E2 podcast is a helpful resource for learning how to use English in your everyday life. Listen while you make dinner, work out or complete chores, and you'll find your English has improved in no time.
E2 has recently launched a TikTok channel for all those wanting to learn English. Short videos will give you insight into some of English's stranger idioms, like 'raining cats and dogs', and you can even participate in short, simulated conversations.
Make sure you also check out the E2 Test Prep blog, where you'll find articles on learning English as part of your daily habits, test-specific hints and tips and helpful information on structuring your English language journey. You can sort blog topics by test name to filter the information most relevant to you.
I need more access
No problem. Once you know that E2 is the right place for you to be studying for your English language test, upgrade your account to whatever subscription tier works best for you. Subscription levels are bronze, silver and gold and give you three, six, and nine months of access to the platform. If you need to get your English ready for a test soon, consider one of E2's express packages or if you need extra help with writing or speaking, buy the intensive courses for those skills.
To understand what areas you need to improve on, take the free mock test included in your 30-day free trial. It serves two purposes – firstly, to help you better understand what areas of study you need to improve on and secondly, to boost your confidence right before you take the test.
If you're not ready to subscribe or don't need full access to the platform, you can buy individual bundles and packages to tailor your learning experience. On the dashboard home page, click on E2+ extras and you'll be able to purchase individual assessments, tutorials, group classes and mock tests. This flexibility means you'll always find exactly what you're after and you don't need to pay for a long term subscription to just access the things you need.
E2 can help you achieve the language results you're after, no matter where you are on your English language journey. If you need to prepare to pass your English test , we have got you covered.