This article on IELTS speaking preparation explores the 3 parts of the IELTS speaking section and provides a list of IELTS topics along with useful tips for test day! 
The speaking section of the IELTS test is included in both the general and academic IELTS. It lasts for less than 15 minutes and includes 3 parts which will be examined in more detail:
Part 1: Interview
Part 2: Presentation
Part 3: Discussion
Interview (IELTS speaking preparation)
In part 1, the examiner will ask you some simple questions about yourself, such as:
What did you study?
What do you do for work?
What's your hometown like?
What kind of food do you like?
Do you enjoy going to the movies?
As you can see from these examples, these questions are pretty easy to answer. The trick is, not to give answers that are too short.
For example, if the examiner asks you what kind of food you like, try to elaborate. Rather than just saying: "I like all kinds of food", you can say something like: "I have eclectic taste in food. I enjoy trying foods from different countries and experiencing their flavours. I especially like Greek, Italian and Thai food".
Presentation (IELTS speaking preparation)
In part 2, you will be given a task card that looks something like this: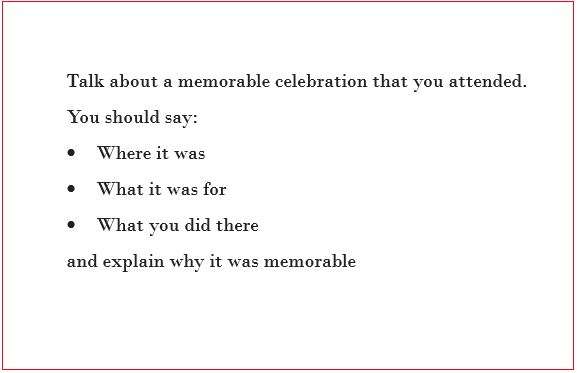 As you can see from the example, the topic will always be related to a personal experience you have had. You will have 1 minute to note down ideas and then you will be given 2 minutes to speak continuously on the topic.
Discussion (IELTS speaking preparation)
Part 3 is a discussion.
Here, the examiner will ask you some more questions related to the topic of part 2. But these questions will be more abstract and related to your opinion rather than your experience.
For example, based on the topic above, some discussion questions could be:
In your opinion, are national celebrations an important part of a country's identity?
Are any traditional celebrations in your country disappearing? Why do you think that is?
Do you think these days that celebrations in your country are over-commercialised or have lost their original meaning?
IELTS speaking topics
There are common themes in IELTS speaking topics, though the specifics of each question vary.
See a list of common themes below!
The examiner is looking for four things:
#1 Fluency and coherence: Your ability to speak fluently without hesitation, repetition or loss of ideas
#2 Lexical resource: The range and accuracy of your vocabulary
#3 Grammatical range and accuracy: Your ability to speak using accurate complex and simple sentences without serious grammatical errors
#4 Pronunciation: Your ability to be understood when you speak
IELTS Speaking Test Tips
Below are some useful tips for test-day preparation:
Tip #1  Develop your answers by giving examples. This means using personal experiences or knowledge to add more information to your answers and keep your speech fluid.
Tip #2  Give your opinion. This will show the examiner that you can think in English and express yourself on a variety of topics.
Tip #3  Keep your speech fluent. Try to stick to things you know so you don't get stuck. This will also show the examiner that you can speak at length without too much hesitation.
Tip #4  Ask for clarification. This is not a listening test. If you don't hear a question, or don't understand it, it is totally acceptable to ask the examiner to repeat or explain the question. This means you will be able to answer it properly.
Tip #5  Although you need to be prepared, try not to repeat memorized answers. You will come across as robotic and unnatural. The examiner will also know and will change the questions.
Before test-day:
Tip #6  Practice, practice, practice! Role play at home with a friend or family member. Let them be the examiner and you practice answering questions about a variety of different topics. You can also record yourself and listen back to see where you can improve (fluency, vocabulary, etc.).
Tip #7  Read about general topics to broaden your general knowledge. This will help you generate ideas during the test and come up with examples from your own knowledge and experience.
This will have the widening your vocabulary for reading, as well as giving you knowledge that you can then use to generate ideas for your essay. So, read a blog or social media article per day, or watch at least one Ted talk or documentary daily on the topics listed above.
Learn how to Ace the IELTS with further preparation tips and strategies.  
Check out the E2 IELTS YouTube Channel, with loads of methods and strategies including this one on IELTS speaking preparation! 
For more formal test preparation, professional IELTS coaching from experts will help you apply the essay formula to different essay questions. Feedback is another important aspect of preparing for the IELTS writing task.
Learning IELTS online with E2language will provide you with effective methods, practice essays and expert feedback to feel confident and prepared to write your IELTS essay.
Get Jay's insight into taking the IELTS Speaking Test: IELTS Success Tips: How to get an IELTS 9 in Speaking
Written by Jamal A.