I have a very embarrassing story to tell you about me and the IELTS writing test. I just received my IELTS Academic results after a 13-day wait and around 32 years of preparation. But before I tell you what my results are, let me tell you a bit about myself – you might think my face is familiar from somewhere.
A little bit about Jay from E2
My name is Jay and I'm a native English speaker; I was born and raised in an English speaking household in Australia.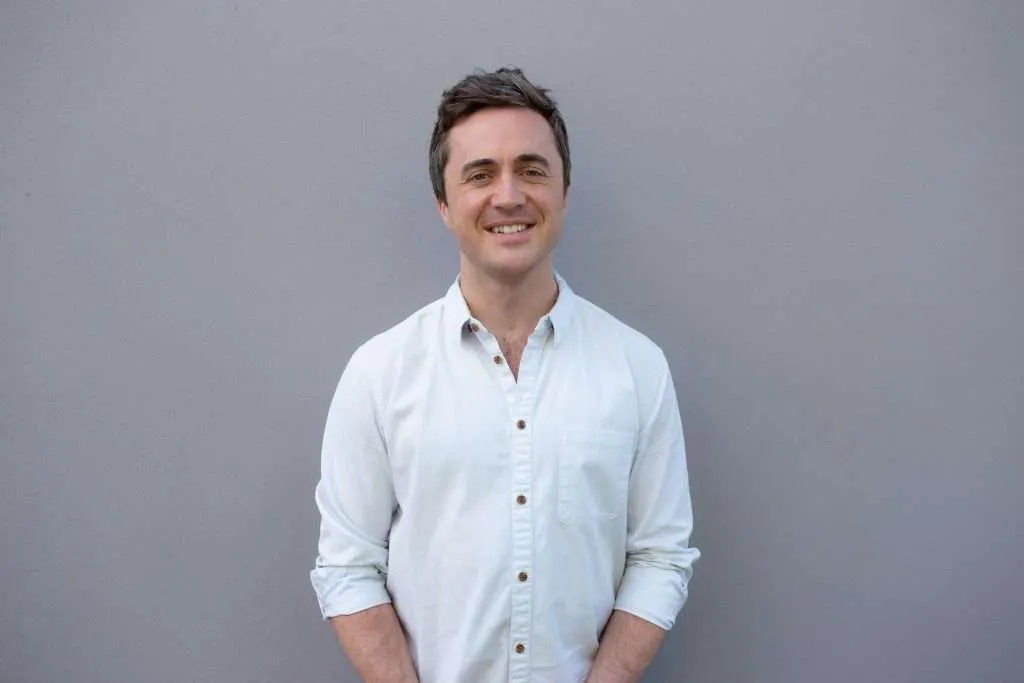 Here are 8 fun language facts you should know about me:
I have always had a passion for language. I read hungrily as a child.
I graduated from high school I was top of my class in English.
I studied English literature as my undergraduate degree.
I particularly enjoy reading literature classics.
I graduated with a master's degree with first-class honours in applied linguistics from the University of Melbourne – a top-ranked university with a top 10 linguistics program in the world – where I now give annual guest lectures.
While studying for my master's degree I also published peer-reviewed academic literature on English language learning.
I have taught English for nine years at high schools and universities in Australia and overseas and now I teach online for E2 Test Prep – arguably the world's most sophisticated online English test preparation website.
Some of my IELTS and PTE Webinars have reached over 100,000 viewers, received excellent reviews and have helped thousands of people from around the world pass their English exams.
And yet…
I failed my IELTS writing test
Despite all of my training, education and passion for the English language, I failed the IELTS writing test.
Well… that's not exactly true because you can't really 'fail' the IELTS, but I felt like I failed. I scored 6.5. While I was very surprised I was not that worried because luckily for me – and perhaps unlike you – my immediate future does not depend on this result.
I took the IELTS because I am an English teacher who wanted to have the experience of doing the test, to gain valuable insights from it and to put myself in your shoes, so to speak, so I can help you to pass your test more easily and more quickly.
It would be even more awkward had I not taken the PTE Academic three months earlier. In that test, I scored a perfect 90, or 100%, in writing, which I consider being a true reflection of my abilities.
Here's my PTE-A report card:
My PTE Academic report card where I scored a perfect 90 in all the skills including writing: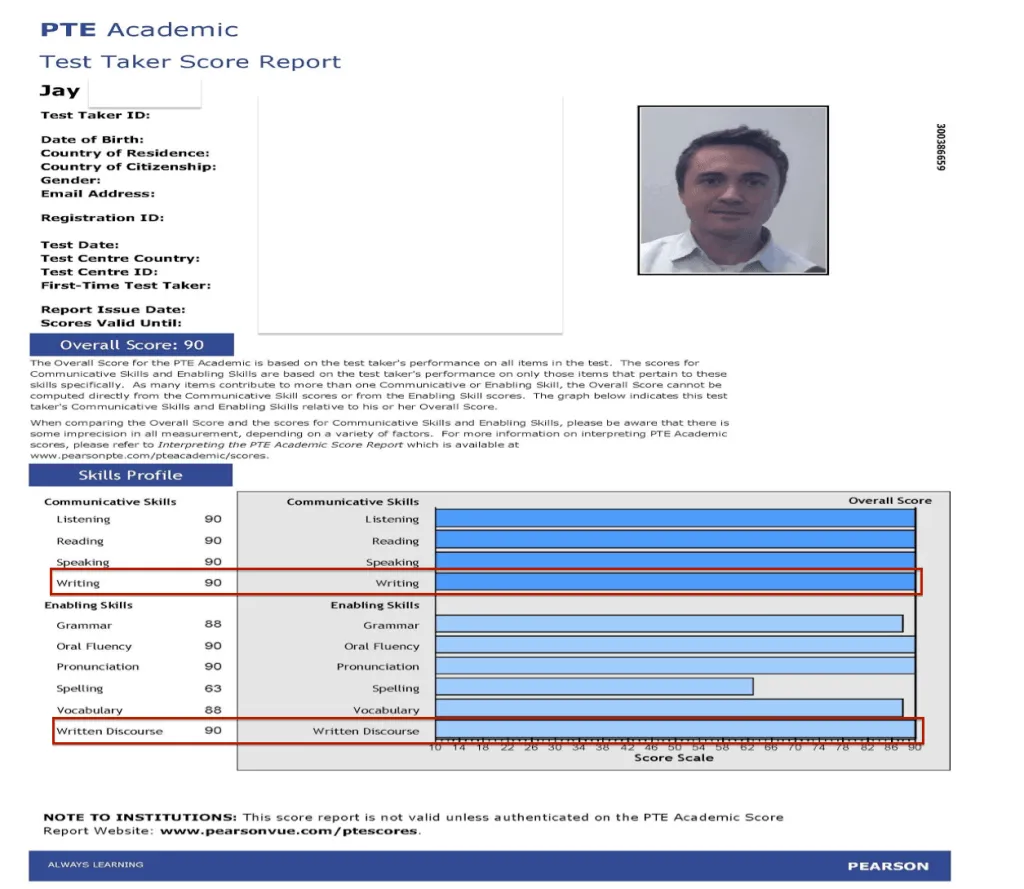 How the IELTS writing test affected my confidence
If the IELTS Academic were the only measurement of my English abilities then I think my confidence would now be destroyed.
Could I continue to teach English, for example? I can only imagine the damage a disappointing English grade would do to a non-native English speaker's self-confidence especially if they were planning to move to an English speaking country to start a new job or enter university or speak with the locals.
To learn a second language is to always be unsure because it's unnatural. And to be told that you are substandard would hurt a lot, I imagine, because we trust the validity of the results we receive from credible institutions such as Cambridge University or Pearson.
I don't want you to think that the PTE Academic is the better or easier test though. That's not my point. Indeed, my colleague, who is a native English speaker with a native Canadian accent scored poorly on the speaking section due to – we believe – a technological fault, which you can read about in her PTE speaking test article. She has since taken it again and scored a perfect PTE 90 but there was certainly an issue there.
By now you're probably thinking that perhaps Jay didn't prepare properly for his IELTS or that Jay probably doesn't understand the IELTS marking criteria. Firstly, I did prepare; as I said, I've been preparing for 32 years and I understand full well what the IELTS writing test criteria are.
Hmmm, the criteria are actually a great place to begin to understand what may have gone wrong and I'm sorry to bore you but this is absolutely critical. If you don't understand the criteria, you should – they are what the examiners look for in your writing.
The IELTS assessment criteria
Task Achievement:
This means "Did you describe the graph accurately (in Task 1)?" and "Did you write about the essay topic (in Task 2)?" The answer to both of these questions is without a doubt. I am utterly convinced that my graph description was very accurate and my essay was completely on the money.
Lexical Resources:
This means "word choice". I believe that I was articulate and meaningful throughout both tasks. My word choices were precise and purposeful.
Grammatical Range and Accuracy:
This means "grammar". I have always thought – at least until now – that my grammar was perfect. How could I possibly have lost a single point here? After all, I am acutely aware of subject-verb agreement, prepositional phrases and unclear antecedents. I wrote both short, simple sentences and longer, more complex sentences.
Coherence and Cohesion: This means "Did you structure your graph description and essay well?" While my graph description was perfectly structured (I am supremely confident of that), I must admit something to you…
My IELTS writing test confession
In the essay, I wrote below the word count and I sat there for ten minutes thinking how easy it was to write that essay. 10 minutes before the hour was up, I glanced at the piece of paper which I had filled from top to bottom and thought my job was done. Then I looked more closely and saw the instruction "You must write at least 250 words." I assumed that my essay was over 250 words but I thought I'd better check. My blood pressure shot up as I did some rough math. My estimate came to 187 words. I needed at least another 63 words! And I only had ten minutes left! I needed to write another paragraph and I needed to do it fast. All of a sudden the fact that I was a native English speaker with extensive experience studying and teaching English became completely irrelevant. I were one of you and the test became very real.
However, I'm good under pressure. Strangely, I've always liked exams. Where some people freeze, other people fly and that's what I did. I whipped up another relevant and logical paragraph that fitted neatly into my essay and I drew a big arrow to it on the other page.
Could this formatting issue have been my downfall? Did the examiner see a big arrow and presume that I was a 6.5 despite the fact that my essay was entirely logical from beginning to end, paragraph to paragraph, sentence to sentence, word to word, first capital letter to final full stop? Did the examiner see the arrow and then doubt my Task 1? Did the examiner see the arrow and lose faith in my grammar, vocabulary and topical relevance?
Anatomy of a failure: What did I do wrong?
There are some other broader possibilities of why I failed that are worth considering:
Illegible handwriting – the examiner couldn't read your writing.
While my handwriting is not particularly "neat", it is legible. In fact, I tested it on my colleagues at E2 Test Prep and they could all read my writing easily. (Mind you, I have not written with a grey-lead pencil since I was twelve!)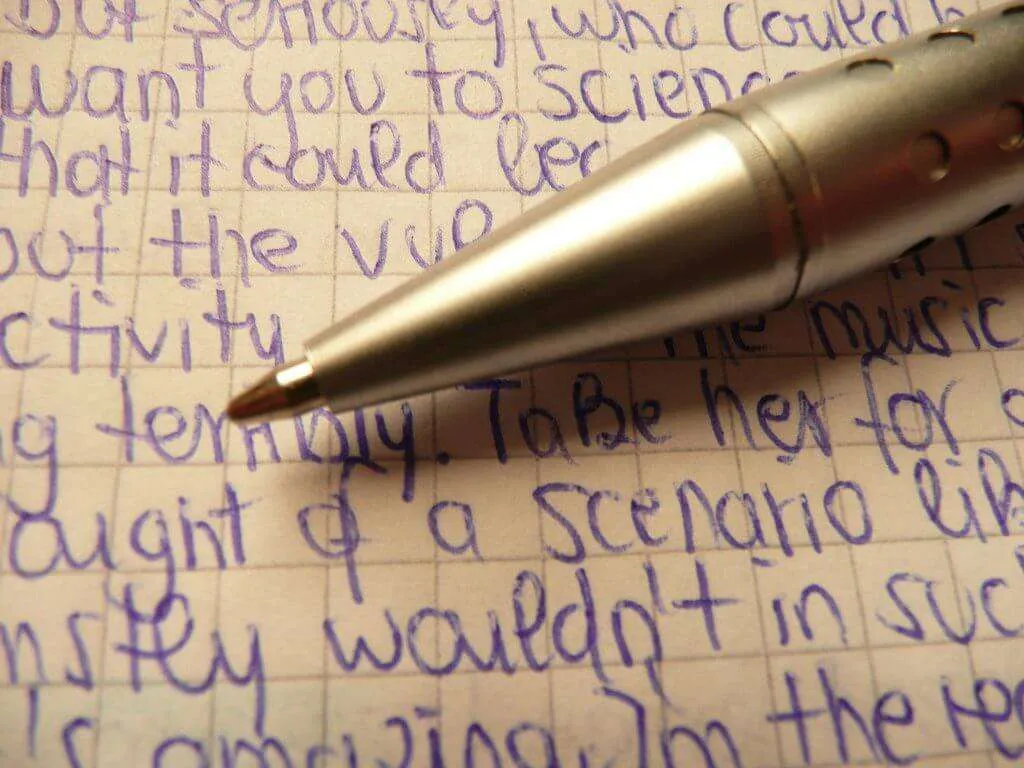 Word count – you didn't write enough words.
After my little mishap, I counted every single word and both tasks were definitely within the word limits.
Formality – you wrote too informally "dude".
That's ridic' 'coz I know what's right and wrong talkin' in particular joints. (Actually, I took a socio-linguistics class on this.)
Too wordy – you wrote such verbose, turgid and academic prose that the poor examiner could not decipher it.
Did I? I thought it was clear and meaningful. And even if it were "verbose", it should never be indecipherable because one would hope that the examiner were an absolute expert in the English language, right?
Incomprehensible ideas – you wrote such profound and "other-worldly" nonsense that the examiner didn't know what you were going on about.
But… no. No. No! My ideas were straightforward and relevant.
Your 'style' was off – you did not write using short and long sentences or use discourse markers such as 'however' or 'therefore'.
Well, this is an interesting point because what constitutes 'good writing' is debatable. I am indeed a lover of short sentences. I am not a fan of long-winded sentences that make absolutely no sense but look incredibly amazing. And I am certainly not a fan of the overuse of discourse markers such as 'however' and 'moreover'; I think they should be used sparingly. To wit, my style of writing, which is to use short sharp sentences, is backed by research in cognitive science (or so says Harvard professor Steven Pinker, the premier linguist in the world, in his most recent book).
You can find IELTS writing test lessons like this one on the E2 IELTS Youtube Channel:
My final piece of advice to all of you
In conclusion… I have no idea why I scored 6.5 in IELTS writing considering that what you are reading now is how I write in real life and how I wrote in my IELTS exam. But I will say this: Let complacency be a lesson to you. Count your words! One thing that may have resulted in my 6.5 could have been that cursed arrow, which, if the case, I believe to be unfair. Subtracting 28% off an overall mark because formatting seems over the top…
Listen: if you scored poorly on the IELTS writing test, then don't feel bad about it. 'It happens to the best of us' as they say. Pick yourself up, dust yourself off and try again. But before you try again, come and speak to us about what we can do to help you out. The IELTS is an incredibly complex and challenging test. Language is a complex and challenging phenomenon! While we have our cracks, that is where our light gets in. As far as I know, we are the only organisation that requires its teachers to take these tests. We are real where others are not.
Note: I applied for an IELTS rescore and my IELTS writing test score was increased from a 6.5 to a 7.5. I plan on taking IELTS again soon so I can have another shot at an IELTS 9 on the writing test!