OET Scoring: Your Guide Simplified!
Understanding OET scoring is an important step for achieving a high score.
This article from E2Language outlines the four language skills assessed for OET scoring and provides an explanation of the grading scale and exam procedure.
OET Language Skills:
The OET assess the four main language skills shown below:
| | | |
| --- | --- | --- |
| Skill Area: | Content: | Demonstrates their ability to: |
| Listening | Common to all professions | Follow and understand a range of health-related spoken materials such as patient consultations and lectures |
| Reading | Common to all professions | Read and understand different types of text on health-related subjects |
| Writing | Profession Specific | Write a letter in a clear and accurate way which is relevant for the reader |
| Speaking | Profession Specific | Effectively communicate in a real-life context through the use of role-plays |
According to the OET Preparation Support Pack
Each skill area is referred to as a "sub-test" in the OET. You will need to become familiar with each skill area, including the number of tasks and how they test your skills.
OET scoring: how do assessors graph results?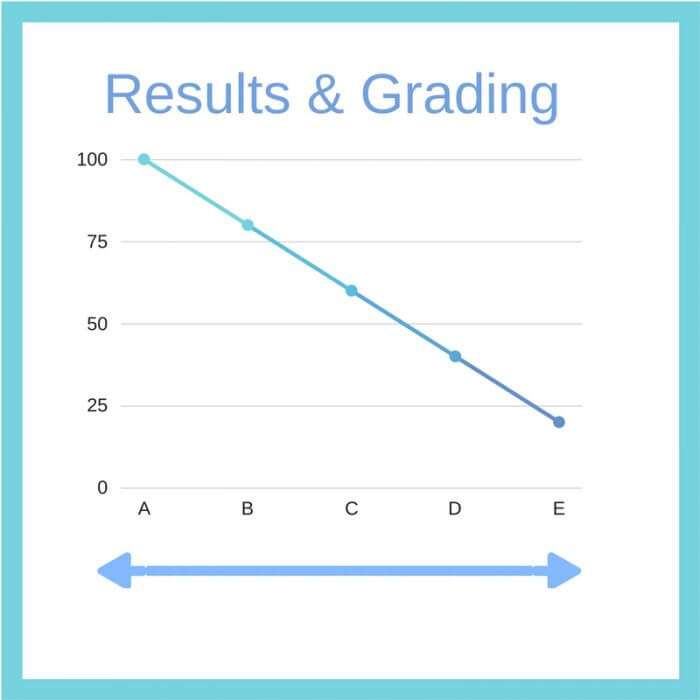 The Grading Scale
Your scores will be given to you on a scale from A (highest) to E (lowest).
The following table describes each grade level:
| | |
| --- | --- |
| Grade: | Description of Ability: |
| A | Very high level of performance |
| B | High level of performance. i.e. able to use English with fluency and accuracy adequate for professional needs |
| C | Good level of performance; however, not acceptable to a range of health and medical councils |
| D | Moderate level of performance: requires improvement |
| E | Low level of performance: requires considerable improvement |
According to the OET FAQS
In other words, you must score a B or above in all sub-tests in order to "prove" that your English ability is adequate for professional needs.
Exam Grading and Procedure
So, who grades the exam and what's the procedure?
Listening and Reading
The entire Listening sub-test and Part A of Reading are scored by trained OET assessors on-site. All answer packets are randomly assigned to avoid possible conflict of interest.
These assessors score your answer booklet using a detailed guide. It specifies exactly which answers receive marks and how those scores are counted.
This guide helps assessors decide whether the test taker provided enough correct responses to be given the available marks (or mark). Every assessor is monitored and scores within data entry are double checked for accuracy.
Part B of Reading is automatically machine graded when the answers are scanned into the computer.
View E2Language's method for passing your OET Reading Part A here!
Writing and Speaking
Writing and Speaking sub-tests are graded by at least two of the OET assessors. Similar to the Listening and Reading sections, your audio files and scripts will be given at random.
These assessors are monitored and the scores they give are adjusted depending on if they are a strict or lenient grader.
In order to ensure accurate scoring, the OET centre only accepts marks if both of the assessors award the same grade to a given performance, audio file or script.
If the two assessors award different scores, your piece will be passed on to at least one senior OET assessor (who has not previously been involved in your marking) to decide your grade.
View a previous post for three simple steps for passing your OET Speaking!
Grading criteria:
---
Writing Sub-Test Criteria (all equally weighted):
Overall Task Fulfilment
Appropriateness of Language (The use of correct vocabulary and phrases)
Comprehension of Stimulus (Correct context)
Linguistic Features (Grammar and Cohesion)
Presentation Features (Spelling, Punctuation, and Layout).
---
The Speaking Sub-Test Criteria (all equally weighted):
Overall Communicative Effectiveness
Intelligibility (How easily you can be understood)
Fluency (Flow and ease of speech, "natural sounding")
Appropriateness
Resources of Grammar and Expression (Working vocabulary)
---
Grade B for Writing and Speaking requires a high level of performance on all criteria.
The OET standard is high but don't let that scare you. With the right study plan, material, feedback and practice you'll be closer to getting your desired score than you ever imagined! E2Language wants to help OET aspirants just like you reach your goal!
Improve Your Core Skills
Find the OET study packages on our website.
Watch Jay on the E2 OET YouTube channel provide some speaking tips for maximising your score on test day:
Written by: Olivia Buba