The OET Reading Part A test is unlike anything that you'll see on IELTS or PTE. It's been designed to mimic the kind of fast-paced reading that you need to do in a medical situation. It's hard! This blog will tell you exactly what it is and how you can pass it using E2Language.com's "secret step-by-step method".
What is the OET Reading Part A?
OET Reading Part A is a 'summary completion' task. What does that mean? It means that you are given a summary of four short texts with GAPS.

Your job is to fill the gap with the correct word taken from the TEXTS. Sounds simple? Well… keep reading because you need a Step-by-Step method to complete this one.
STEP 1: IDENTIFY THE TOPIC (3 seconds)
Just below the INSTRUCTIONS and just above the TEXTS is the TOPIC. Can you see it here in red?
That's it: The topic of these TEXTS and the SUMMARY is Vasectomy. How long did that take you to identify? It should take you less than 3 seconds to find and understand.
Identifying the topic is the best possible start. It will prime your brain with relevant language on what the TEXTS and SUMMARY will be about. You don't want to waste valuable seconds looking at the TEXTS trying to deduce what they are all about because the TOPIC gives it to you immediately.
STEP 2: IDENTIFY THE TEXT TYPES (10 seconds)
You need to be able to quickly identify the TEXT types.
There are usually 4 (but sometimes 3) of them. These TEXTS might be:
Statistics

A research abstract

Q and A

A definition

A short case study
They're short. Sometimes they are just a couple of hundred words, or a bunch of numbers. But they're not exactly easy to read. Check this one out; it's a Research Abstract:
These are Statistics:
Glancing at the TEXTS and being able to identify them will help you enormously because the SUMMARY will directly relate back to these TEXTS. If you see a reference to statistics in the SUMMARY you know that the answer will be in the statistics TEXT, for example.
STEP 3: SPEED-READ THE TEXTS (1-2 minutes)
I know it's scary because the clock is ticking down but you need to spend 1-2 minutes speed-reading the TEXTS. You need to get an idea of what they are about. If you miss this step you will not be able to fill out the SUMMARY correctly.
You need to understand three things when you speed-read the TEXTS:
The general idea

The headings and subheadings

Keywords
Look at this one again:
The title states the "risk of prostate cancer" after vasectomy. That's the general idea.
The headings and subheadings talk about:

Authors

Context

Objective

Design, setting and participants

Outcomes

Results

Conclusions
The keywords are:

"Risk"

"Prostate cancer"

"Diagnosis"

"No association"

"Does not increase risk"
STEP 4: MATCH THE SUMMARY TO THE TEXT
Now it's time to look at the SUMMARY. What you'll notice in the SUMMARY is that there are clues as to which TEXT you should look at to find the word to fill the gap.
Look at this SUMMARY paragraph:
There are clues in here as to which TEXT you should look at to find the correct words to fill the gaps. Can you remember which one it might be?
Statistics? No.

Q and A? No.

Case study? No.

Research abstract? YES!
Look more closely at the KEYWORDS in this SUMMARY paragraph: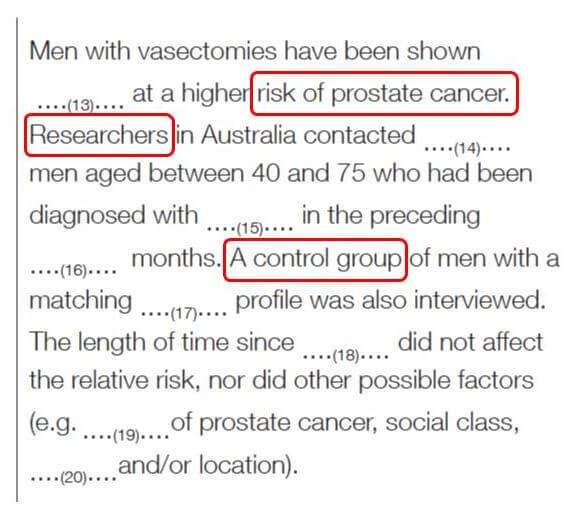 These KEYWORDS directly link back to the TEXT that was about research. Remember? Aha! This is where we need to go to fill the gap correctly.
KEYTIP 1: EACH PARAGRAPH IN THE SUMMARY CONTAINS INFORMATION FROM ONE OR TWO TEXTS
Keep in mind that each paragraph in the SUMMARY usually contains information from one paragraph. Sometimes, however, each paragraph in the SUMMARY may contain information from two TEXTS. As a result, you may have to look at the TEXT on research and the TEXT on statistics to fill the gaps for that single paragraph.
STEP 5: MAKE SURE THAT THE WORD FITS FOR MEANING AND GRAMMAR
Most of the time you cannot take a word directly from the TEXT and fit it directly into the gap in the SUMMARY. The word may have to be changed to fit for grammar or meaning.
STEP 6: …
Sign up to www.e2language.com/home/oet to see the rest of the STEPS to complete OET Reading Part A successfully.
If your OET exam date is nearing, you may need to do an OET preparation course. E2Language.com has OET sample tests, including OET reading sample tests including lots of practice for OET Reading Part A. Our course is 100% online – OET online. If you need OET writing tips or an OET writing sample then sign up today!
Written by Jay Merlo