Ensuring that you have sufficient PTE preparation time is essential for achieving your PTE target score. But how much PTE preparation time do you need? 
Allocating the right amount of PTE preparation time can be tricky and depends on many factors including:
What are you currently scoring?
What score do you want?
How much time do you have?
Unfortunately, many people come to E2Language after failing the test multiple times. Believe it or not, most students who fail the test don't score badly in all of the skill categories. In fact, these students often score over 65 in three areas and miss the fourth area by only three to four marks. If you are one of these people, you're not alone.
If at first, you don't succeed…
Failing to achieve your target score is only a setback. Try and remove all the negativity of failure from your previous experiences and see this as an opportunity to perform better in the next test. Instead of feeling discouraged about a low score, try and learn from your mistakes, and break down each section of the PTE by asking yourself: "What do I need to do to achieve my target score in each section?"
The team at E2Language can help you stay focused and achieve your target score by providing the support you need. By turning your weaknesses into strengths and setbacks in opportunities, you can realize your goals by doing the following:
Set realistic time frames
Stick to your study schedule as much as possible
Set the appropriate amount of study hours
Adopt a successful attitude and mindset.
Prepare, Prepare, Prepare!
We cannot emphasize this enough! Studying with the right amount of determination and attitude will influence your score. If you're prepared to study productively and put the required hours in, you can achieve a 90 if that's what you are realistically targeting. If you are determined to get a 79, you will. If you want to achieve a 65, you can with the right materials and focus. The point is that your goal will determine your grade. Practice makes perfect and your results will reflect your study habits, preparation, and attitude.
Often I hear you ask "But how much time do I need to prepare?" The answer is, "It's different for everyone!" However, as a general rule- those who wish to increase their PTE score by 10 points or more should set aside at least 4-6 weeks for targeted studying.
E2Language Study Plan – Use your PTE preparation time wisely!
Study schedules are an excellent way to keep track of your study program, ensuring you are covering the PTE tasks.
Our 4 Week Study Schedule below shows that you need to study for 3 hours a day, for six days over 4 weeks if you want to cover every task in detail. Wow! Take a closer look at how each PTE parts are broken down.
Let's say you need to go from a 65 to a 79 on your next PTE exam. Your best plan of action is actually to set your new goal higher than 79 in all sections and work hard to achieve it over four to six weeks. It's more beneficial to put in the work for 4 weeks than it is to study for 2 weeks and hope for the best.
Now take a look at the 6 Week Study Plan which shows that you need to study two hours a day, for six days a week, over a period of 6 weeks. This is the optimal PTE preparation time for people who need 15 or more points (e.g. PTE 50 to a PTE 60).
Remember to tick off the tasks as you practice them to let yourself know how much work you are really doing!
Setting a goal of 90 can be realistic too. Read the success stories on our E2Language PTE Reviews page, and learn the PTE scoring tips from students who received perfect scores.
The PTE Preparation Cycle For Success
Every E2Language package will bring you closer to achieving your target score. I highly recommend focusing on getting feedback from tutors for speaking and writing sections. The learning cycle goes like this:
Learn from the webinars
Do the practice tasks
Get the live feedback in your tutorial and written feedback on your assessment tasks
Learn from your feedback and correct your errors
Get feedback in the tutorial and on your assessment tasks
Keep going!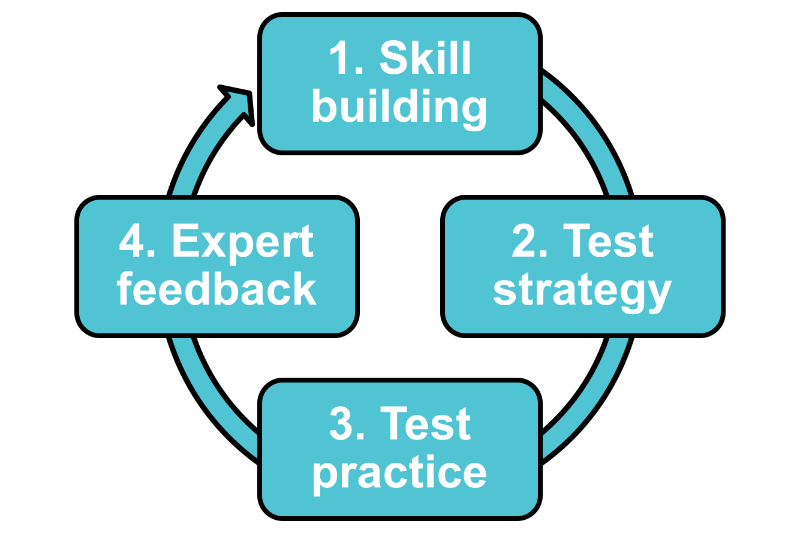 The PTE Learning materials available on the E2Language website are up to date and specific for each task. I recommend that you closely follow the model answers in all the sections of the test. Why? Because you want your answers to be model answers too!
In Re-tell Lecture and Describe Image, pay close attention to the structure of your content by imitating the model answers. The three areas that you are being marked on are Content, Pronunciation, and Fluency. Your content needs to be structured as the method suggests, and your pronunciation and fluency need to be learned and then practiced.
Attending live classes will lead to a better understanding of the methods as well as give you regular practice throughout the week.
PTE Scoring Tip: To score well you need to complete each task on time accurately
Efficiency is the key to the PTE. Familiarity through preparation and repeated practice will allow you to react efficiently on test day. Remember that YOU are preparing for a test! Like any test, there will be surprises and challenges, so be open-minded and prepared.
The best grades are earned by persistence, determination, and preparation. Don't practice old mistakes, and always look for ways to correct your errors. The E2 PTE YouTube channel has great recordings of native speakers and focus on each task including read out-loud, re-tell lecture, and describe image. Remember to allow up to four to six weeks preparation for your PTE exam by sticking to a rigorous study plan.
Subscribe to the PTE Youtube Channel to watch methods webinars and tips videos like this one!
If you become a paid member with E2Language, we help you calculate your PTE preparation time and create a personalized study plan just for you. Get the score you need by attending our live classes, utilizing resources such as the PTE practice tests, and getting regular feedback from your tutors.
Written by: David