We know there can be a lot riding on passing the PTE exam with the marks that you need. Preparation for the exam may seem trivial at times, an obstacle that stands between you and your future plans. Maybe you have an exam coming up soon. Maybe you failed once and really can't afford to fail again. Or you may just have some serious studying ahead of you and you need some inspiration. Sharada's PTE story sets a great example for all PTE test takers. She shows what can be achieved with hard work and a little bit of help from the right place.
A little bit about Sharada…
Sharada is from Bangalore, India and has a background in Electronics and Communication. Hoping to move to Melbourne, Australia, Sharada had to score as high as possible on her PTE in order to apply for Permanent Residency status. Like many of our students, Sharada works full time and had to manage the free time she had outside of work wisely to prepare for her exam.
Hold on a sec. This is something that we can all relate to, isn't it? We're already so busy with our routines and deadlines, with our jobs or university, it's hard to imagine taking on a new challenge like, for example, preparing for an exam. But, like many things, it just has to be done!
And you don't need to tell this to Sharada. Sharada has lived in Bangalore all her life but she knew that if she wanted to migrate to Australia she'd have to pull herself up by her bootstraps and take on the PTE!
So, what did she do?
This is where Sharada's secret PTE preparation formula comes into play… only kidding! The only 'secret' here is an online learning and how best to use the flexibility of the digital age to your advantage! By using this 'secret', Sharada was able to juggle her work, social and study life with great success and that's how she managed to… well, you'll just have to read on if you want to find out!
Read: E2Language's Ultimate Guide

to Different PTE Essay Types
Sharada's PTE Story
Sharada started out by taking cues from E2Language's PTE YouTube channel. Studying diligently and soaking up as much information as she could, she needed some practice material and so she signed up with E2Language. In doing so, she was able to take what she had learned and apply it to the E2's expertly produced practice material.
"The content quality is the best part, it is as close as you can get to the actual test. Thanks to your linguistic experts and content development team."

Sharada, PTE 90
In her first PTE attempt, Sharada, in her own words, "mismanaged the timing of the reading section", a common issue that students face when taking the PTE. She scored a 75 in her first attempt. Not a bad score by any means, but Sharada wanted more and so she booked her exam again for the following week.
In the meantime, Sharada returned to E2Language and engaged with PTE Live Classes. Sharada says that although she was aiming for a score of 79+, she watched the 65+ and 79+ Live Classes brackets just to make sure she covered everything!
After familiarising herself with methods, Sharada put them to use, applying her newfound skills to E2's PTE Course. And she couldn't have gone to a better place. As Sharada says herself the questions are "as close as you can get to the actual test"! This is because E2Language practice questions are created by teachers with vast amounts of experience with the PTE. They've made it their mission to give you exam quality practice questions. By practicing with our material, Sharada gained experience, knowledge, and confidence by practicing with questions that she could trust. And, well, her results say it all…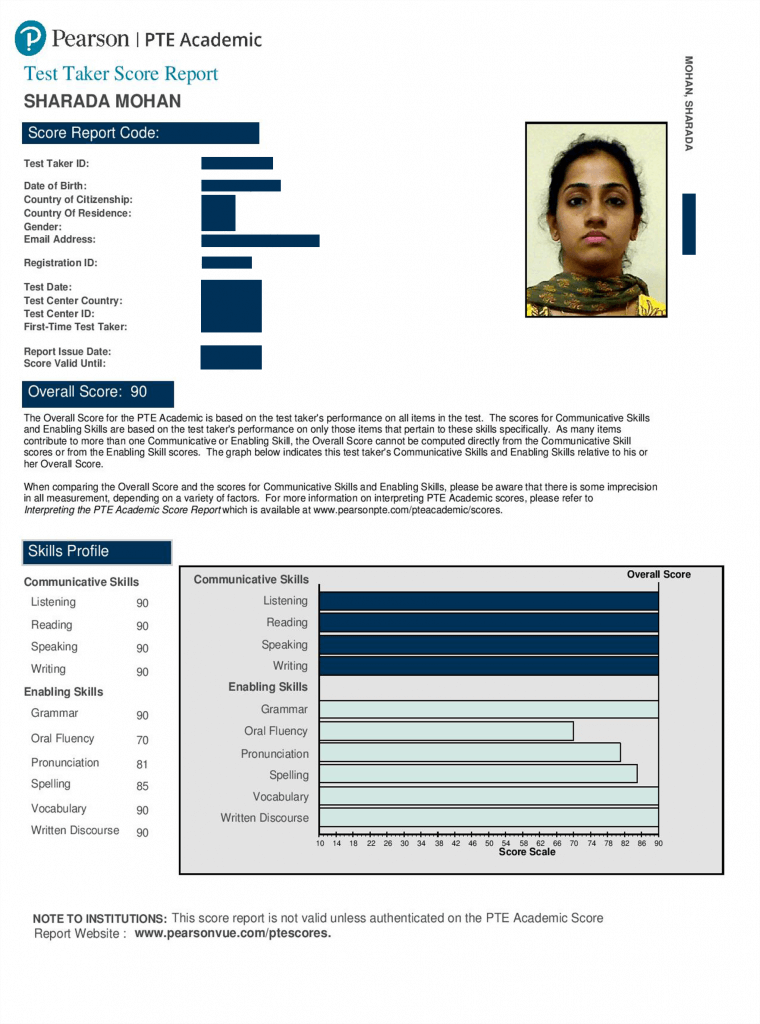 Viola! The fruits of Sharada's hard work are clear to see. Not only did she achieve her desired score of 79, but Sharada aced the whole test with straight 90s PTE scores. Listening, Speaking, Reading and Writing! What a result!
Talk to us!
Have you had a similar experience with E2Language? Comment your PTE scores below and let us know how you did. Or if you're still preparing for your test, it's never too late to cram in some PTE Live Classes like Sharada did! Sign up to E2Language and start your success story today!