If a teacher needed to take an online English course for professional development purposes, what tools and techniques would they want in the course to help them to succeed and pass the exam? To answer this question, E2Language decided to do a survey of the next generation of tech-savvy teachers- a group of education students in their final year of study in the Faculty of Education at Monash University.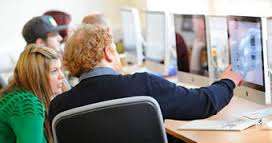 Surprisingly, or perhaps not so surprisingly, the responses we received from these 'soon to be teachers' echo much of the positive feedback we regularly receive from our IELTS test-taking students who come to us for help in preparing them to take the IELTS exam.
(I should warn you before I go any further, we at E2Language really enjoy our research into optimal online teaching and learning practices).
Returning to our question, I should also mention that when we approached our 'soon to be teaching grads' to participate in the survey, they all seemed more than happy and willing to contribute their opinions and insights. If the enthusiasm of this group is any reflection of the next wave of teaching professionals being unleashed upon the world, our children are in very good hands indeed.
Our survey group was a relatively small sample size of 35 students in total. Though not particularly large, the results of the survey were unambiguous all the same. The survey wasn't intended to be especially rigorous, scientific or exhaustive. Rather, it was meant to 'take the temperature' of our group more in the nature of a perceptions study.
Before commencing the survey, we explained the context of the survey. We explained that if a respondent had the opportunity to design an online English course to help them pass an important examination, what tools and techniques would they wish to have as part of that course? This is a situation that is broadly similar to that of our e2language.com students taking online IELTS classes to enable them to get into a graduate program or for other professional reasons.
To very briefly summarize the key questions, we asked respondents whether they would want their online English course to include:
teacher-guided one on one instruction providing guidance and feedback?
video or media based explanations of key principles and concepts that could be re-played?
group oriented, participatory webinars?
self-paced, self-directed practice exercises, activities and assessments?
The results of the survey, as I mentioned earlier, were clear.
Teacher Guidance
The responses to this question were interesting. More than three-quarters of respondents replied with a very strong YES- they did want some form of teacher guidance! This is a ringing endorsement of the important role a real teaching professional plays in efficient and effective guided learning.
At e2language.com, we have recognized this in the role of the IELTS tutor our students meet online. Tutors are well placed to give feedback on IELTS writing topics or IELTS speaking topics with answers.
Video and Media
We also asked our survey group whether they would want video lessons included in their online English course. Again, we received the clear answer that over 80% wanted video lessons illustrating key concepts 'in action' (which could be re-played). This implies that many wanted video delivering something more than a talking head.
Using video including explanations of concepts 'in action' is something we very much believe in at e2language.com. For example, using video to explain the IELTS listening skill requirements or de-constructing an IELTS essay sample is very helpful for many of our students.
Webinars
Teaching and learning, whether online or in a classroom should always be a social exercise. Interactions with teachers and other students provides a diversity of opinions and views necessary to acquire a well-rounded body of knowledge. The webinar is a tool that enables that interaction to occur online.
Despite its importance, surprisingly, our group responded to our question on webinars with slightly less enthusiasm than 1:1 learning. Perhaps this is because, as teachers, they approached the question more from a teacher-centric as opposed to a student-centric perspective. A good IELTS webinar, should function like an IELTS forum that is live- interactive and somewhat more balanced between teaching and learning- an online IELTS school.
Self-paced, Self-directed learning
Most online English course are either heavily video-based or heavily self-study activity based- a sort of 'one technique or the other' approach. A well-designed online course, our respondents told us, is more akin to a puzzle where the technical and methodological pieces need to be fit together in a holistic and coherent manner.
Well over 85% of our respondents stated that self-study, self-paced activities were essential to apply and reinforce the theoretical or conceptual aspects of the course. This would include examination practice questions.
In a similar sense, an IELTS self-study program is fine. It provides an essential element of skill building for students. The simulation of IELTS exam questions or IELTS mock tests is an important part of the self-study process. However, the application of knowledge is a part of the learning path that is towards then end of the learning journey. A good grounding in what to apply, when and how is equally important to contextualize learning.
Interestingly, what our survey told us- apart from answers to these specific questions- is that the teaching profession itself is more than willing to embrace these new and different ways of disseminating knowledge. Technology is not seen as a threat to the role of the teacher. Perhaps this is because teachers know and accept how important they are in helping students achieve their goals.
Written by Tom Connors