If you've decided to take the TOEFL iBT, you've probably realized by now that a quick Google search will return pages upon pages of TOEFL learning material.
Although this may seem like a good thing, it can actually be overwhelming. I bet you're probably asking yourself, "where do I even start?"
Before you go into pre-TOEFL shock, check out these THREE key steps to finding helpful TOEFL learning material.
PS: You can fill out the form below to download a free TOEFL 'independent writing' essay sample!



Step #1
Gather background knowledge about the TOEFL iBT test format
Going into the TOEFL test with no preparation and minimal understanding of the test format is unwise, even for advanced students and native speakers.
To get the best use out of your study time, make sure to invest some time in pre-study research. That is, before even looking at any practice questions, do some investigation into rubrics and question types for each section.
View the Scoring Guide for Writing and Speaking sections.
Also, be realistic about your preparation time. Be sure to give yourself enough time, based on how much time you can commit on a daily basis.
Don't jump into the test until you feel confident! Take it from me; when I did the TOEFL iBT, I spent about a week brushing up on the test format and practicing and I was still scared silly for the speaking section!
Unfortunately, I lost points in that section because I overestimated my abilities and didn't take sufficient time to practice beforehand.
Step #2
Find official TOEFL learning material and TOEFL-like practice exercises.
Yes, I know, you're already shelling out some big bucks for this test, so do you really need to pay for more practice material?
I'm not going to answer with a definitive "yes, you do!" but, if you're unsure of your English level or haven't taken the TOEFL iBT before, it could be a great investment.
Find these useful resources below:
Preparation Books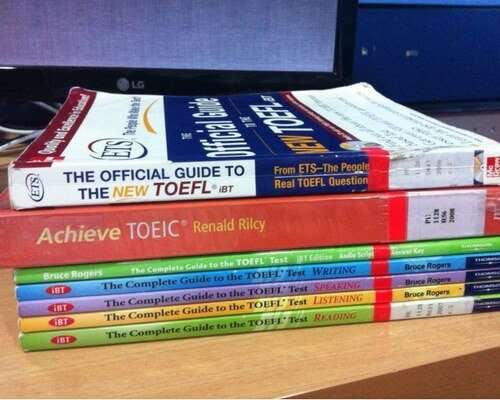 There are buckets of TOEFL books out there, so you'll no doubt have little trouble finding one that suits you. When deciding what book(s) to buy, consider the following:
Is the material up-to-date?
Does the book include full mock tests?
Aside from the practice questions, does the book provide any tips/ strategies for each section?
Some of the Most Popular TOEFL Books on the market:
Cambridge Preparation for the TOEFL Test: Amazon
The Complete Guide to the TOEFL Test (iBT Edition):  Amazon
The Official Guide to the TOEFL Test: Amazon 
TOEFL Practice Online
If you already know your stuff when it comes to TOEFL, but just need a few more questions to run through to boost your confidence, try the official mock test or look through some past exams with the Official TOEFL iBT Tests. 
Speaking Evaluation: Speaking Series or 1:1 Tutorials?
I bet I'm not the only one who gets nervous for the speaking section! While practicing at home ( i.e., running through some mock questions while timing and recording yourself) will help you feel more confident under the pressure of the actual exam, the best thing you can do to improve in the TOEFL speaking section is to get some feedback!
See this recent post for expert advice on tackling the TOEFL speaking test!
ETS offers the "TOEFL iBT Speaking Series" which will give you one full set of speaking tasks (two independent and four integrated) and will simulate the experience of taking the test, only through your own computer.
Though the Speaking Series will give you a projected score, you also need to be able to accurately determine your weaknesses in order to improve. For that, the best resource is live feedback, which we will happily provide through 1:1 tutorials on E2Language!
Check our TOEFL Preparation packages HERE! 
Step #3
Enhance your overall English skills with non-TOEFL learning materials!
Looking at page upon page of TOEFL Reading passages or listening to endless hours of TOEFL Listening dialogues will be sure to numb your brain, so give yourself a break by using other sources to study.
Adding variety to your study sessions will keep you engaged while still picking up on vocabulary and improving your overall knowledge.
Here are some ideas of resources to use:
Newspapers/Magazines: Think sources such as The New York Times, National Geographic, The Economist, etc.
Documentaries and TED Videos: Look for speakers with American accents!
E2Language Youtube Channel –— Brush up on your grammar and vocabulary with our clear and simple (yet awesome!) videos on E2 Core Skills Channel!
Check out this TOEFL Reading video on E2 TOEFL:
Remember, set realistic goals, use a variety of TOEFL learning material, and study consistently to get the best results!
Make sure you keep reading our blog so you can start planning your TOEFL preparation time too!
Written by Meaghan