Are you looking to improve your essay writing skills and achieve a high score on your next English essay? In this post, we will explore the best essay writing tips and cover different essay types, the essay structure, an essay outline and much more to help you succeed on an upcoming English essay. These 10 tips are perfect for school, college or university essays, as well as English exams like IELTS, PTE and TOEFL. We have included some helpful resources including a companion pdf that has a sample English essay and a few essay prompts. Every great English essay is improved with feedback so visit E2testprep.com and sign up for free to access expert feedback from our experienced teachers.
Watch our video below to see an in-depth explanation of the Top 10 English Essay Writing Tips.
1: Understand How to Answer the Essay Prompt
In order to successfully write an essay, it is important that we fulfil the essay requirement by understanding the essay prompt and what it's asking of us. We need to begin by identifying what type of essay the question is calling us to write. Here are three different essay types that are commonly used:
Opinion essays
Problem/solution essays
Advantages/disadvantages essays
Here are possible questions to look out for to help you identify these three different essay types, and the requirements to fulfil for each.
In our sample English essay provided here, the essay prompt asks:

In the past, almost all office workers did their job in their company's offices five days a week. Nowadays, however, many employers allow more flexible work arrangements, and employees often choose to work from home a few days per week.

What are the advantages and disadvantages of employees working from home?
This is a discussion essay where we can outline the disadvantages and advantages of the topic.
2: Follow the Correct Essay Structure
The essay structure shown below is simple, but extremely effective at presenting your ideas in a clear and organised way. It is important to use this format so it makes it easy for your teacher or assessor, whoever is marking your essay, to follow your ideas. You need to follow this structure:
In your introduction, you simply tell the reader what the essay is about. In your body paragraphs, you should present your arguments, and then support your arguments. This is where you show evidence through the use of examples and also explain your reasons in detail. In your conclusion, you summarise what was said in the essay.
3: Plan your English Essay
A simple and clear plan is very important to making sure your ideas are well-organised and easy to follow for when you write the actual essay. Below you will see a plan for the main body of a sample English essay. There are two advantages and two disadvantages outlined, each with a supporting reason.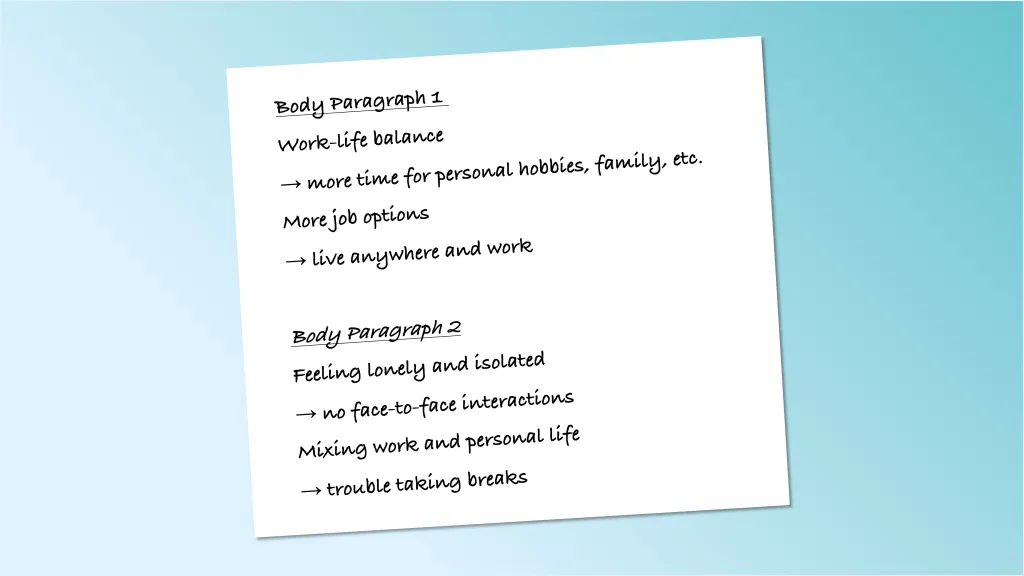 Taking a few moments to plan can be the difference between a good essay and an excellent, well-organised one. Teachers can easily pick up on unplanned essays. Students who decide to jump straight into writing without creating an essay outline first will often go off-topic during their essays. Sometimes the ideas are randomly inserted in certain places, resulting in a disorganised and low-scoring essay. The writing may leave assessors confused and looking for your arguments and reasons.
Don't make this mistake, and get into the habit of planning, even if it's just a few quick bullet points.
4: Explain your Reasons
Explaining your reasons gives your writing more support. It is important that you provide proof through the use of evidence and examples to support your ideas or arguments. Without any explanations, not only will your ideas lack strength, but your paragraphs will also be too short.
Referring back to our sample English essay, we can see a well-explained example below.
In the image above, the phrase 'For instance' introduces an example. In this case, it is an example of how an employee can struggle to separate their office and home life, including knowing when to stop working and take a break. Then, we can see the writer provides an explanation by including the phrase, 'This could lead to' and then describing the effects and consequences of the previously mentioned example.
Explaining reasons with evidence and examples can be the hardest part of writing for some as it forces us to extend our ideas. Start with an example, and then reflect on the possible upsides or downsides of it. Ask yourself 'What are the effects or results of this example or evidence I'm giving?' which should then help to form your explanation.
5: Use Synonyms in you English Essay
When you are writing any type of essay, there will always be a set of keywords or phrases that get repeated throughout your writing because they are linked with your topic. Using synonyms, or different words that say the same thing, allows us to avoid sounding repetitive, which can often make our essay seem boring. Using synonyms is a quick and easy way to improve your writing.
In our sample English essay, the idea of 'working from home' was used a lot. Here are some synonyms we included throughout our essay for this idea: 'work flexibly', 'remote work', 'flexible work arrangements' and even rephrasing the idea as 'this change in work culture'. Using synonyms creates variety in our writing and improves the range of our vocabulary, which can easily help you to score higher on an essay.
If you need to, you can use a thesaurus to find synonyms for words. Just make sure the synonyms still sound natural.
6: Paraphrase, Don't Copy
Depending on your essay topic, you may need to include research, or facts found through research on the internet. In any type of essay, it would not be acceptable to copy phrases or sentences, word for word. If you struggle with paraphrasing, we recommend that you start with synonyms first so you can build on the skill of replacing words and then slowly move into rephrasing and rewording entire phrases, sentences and then sections of text.
A great place to start is paraphrasing the essay prompt in your essay introduction. You need to be able to write it in your own words so you can show how well you can use language. In the image below, we can see how the essay prompt from our sample English essay has been paraphrased to create an interesting essay introduction.
Paraphrasing might seem like a difficult skill to master at first, but with practice, it will become much easier.
7: Vary your Sentence Structure
To demonstrate your essay writing skills, it is important to include a wide range of sentence structures, including simple, compound and complex sentences. Using these sentence types will not only show off your skills and knowledge, but also prevent the text from sounding boring.
A simple sentence contains only one independent clause. An independent clause is a group of words that contains a subject and a verb and can be a sentence on its own.
You can see an example of a simple sentence from our sample English essay below. Notice how this example broke up a group of longer sentences and created a sense of impact.
Another upside to working from home is the career opportunities it offers. People can now work for companies in other places. This means they can live anywhere and still do their job well. It also means they can apply for better jobs that might not be close to home.
A compound sentence contains two independent clauses, joined by a conjunction such as 'and' or 'but'. Below is a compound sentence from our sample English essay.
I think workers should be allowed to work from home, but only for up to two days a week.
A complex sentence contains an independent clause and a dependent clause, which cannot be a sentence on its own. This type of sentence demonstrates a higher level of complexity.
Without being away from home all day, employees can better manage their work and personal commitments.
To vary your sentence structure even further, you can swap the order around with some complex sentences by putting the dependent clause at the beginning or putting it at the end. The sentence still makes sense, even if it's reordered, which can help if you keep repeating the same sentence structures.
It is also important where you use different sentence types. Too many complex sentences in a row can be hard to follow. Too many simple sentences can make it feel like your ideas are not connected. On the other hand, shorter sentences can help to break up a group of longer sentences.
8: Use Linking Words
Using linking words is an easy and effective way to make your writing sound more like an essay. They help create structure and flow so that your reader can clearly follow your ideas. Linking words show the connections between ideas and paragraphs and also increase clarity in your essay, so that everything reads smoothly. Usually we use them at the beginning of sentences.
Let's look at three examples of linking words found in our sample English essay.
Consequently, this means many people can work from home for a few days each week.
The linking word, 'consequently', shows a cause and effect relationship between statements.
On the other hand, remote work is not only socially isolating, but less teamwork could mean that the company won't do as well.
'On the other hand' shows contrast when you're introducing a different or opposing idea.
In conclusion, having the choice to work from home has changed the traditional work style.
'In conclusion' tells you that the ideas are about to be summarised and concluded.
There are many different types of linking words. Some linking words are used to show cause and effect, others for examples, while some can be used to show the sequence of ideas.
9: Proofread OUT LOUD
Everyone knows that they should revise their writing at the end, but often this step can get overlooked when you are rushing to finish off an English essay. It is understandable. You have just planned and written an entire essay, while having to think about synonyms and transition words and sentence structure and everything in between. Going back over your work thoroughly can save you from losing marks. The best way to do this is to proofread your writing out loud.
When just quickly glancing over your writing with your eyes, it is easy to miss some of the careless mistakes that have been made, especially if you are rushing to complete an essay that has a time limit. However, if you take some time to proofread aloud, you can start to pick up on things that sound incorrect. We recommend that you read every piece of writing out loud, so you can easily listen for mistakes. Try it next time you write an essay.
10: Seek Feedback
As you practise your essay writing skills, it is important to ask people around you for feedback on how to improve. Of course, having teachers look over your writing will be the most constructive for your skill development. However, it is always great to have your classmates, family members and even friends read your writing. Having a fresh set of eyes can help to catch errors but also provide valuable feedback on your writing.
As always, if you are looking for expert feedback, especially for a high stakes English exam, be sure to sign up to E2testprep.com. Our experienced teachers and ex-examiners can help you to improve your writing!
More Help with English Essay Writing
Need more help with your English essay writing? We have you covered! For help with general English essay writing, head to E2testprep.com and sign up for free. You can access method lessons, practice items, live classes with expert teachers and more. We have everything you need to help you quickly achieve success on your next high stakes essay.
15% OFF ONE WEEK ONLY!  Use code PASS15
Upgrade to unlock 100s of practice tests, method lessons, mock tests, and 1:1 tutorials!
Valid until September 27 2023*

Author Bio:
E2 is the world's leading test preparation provider. Our expert teachers are fully accredited English teachers, with TESOL, British Council or other relevant certification, and years of examiner or teaching experience.